Join David Tomorrow at Disclosure Fest!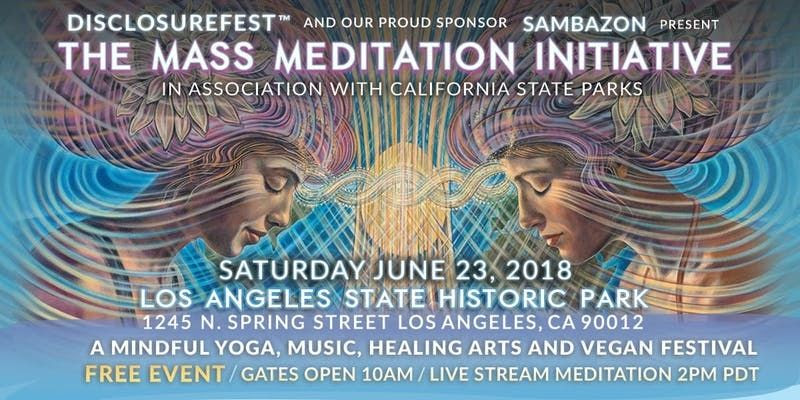 Join Us at Disclosure Fest tomorrow! Saturday June, 23rd Los Angeles!
Dear Readers,
we have an exciting last-minute announcement to make and that is David will be speaking at Disclosure Fest tomorrow, Saturday, June 23rd. The event is FREE admission, so come on down if you are a local LA resident and join the fun or join the mass meditation live stream!
Definitely come and check out the Disclosure Fest all-day FREE event in Los Angeles Historic State Park!
CLICK HERE FOR DISCLOSURE FEST DETAILS
There are two huge outdoor stages, the epic premiere of Corey Goode's first feature film Above Majestic (which I star in extensively), over 100 conscious brands, 40 healing tents, 20 vegan food trucks, 45 speakers and workshops, a Starseed children's area, 18 live musical performances, a sound healing dome, an art walk and one of the largest mass-meditations in the world.
The Meditation Effect proved that a mere 7000 people can reduce crime, war, terrorism and fatalities by 72 percent. We are estimating at least 10,000 from pre-registration alone, and I will be leading the whole thing.
This is a one-of-a-kind, life-changing event with dance, music and plenty of social opportunities. Don't miss it! Are you honestly doing anything MORE interesting tomorrow?
DAVID'S EVENT SCHEDULE:
12:20-1:20PM PANEL WITH DAVID WILCOCK, COREY GOODE, EMERY SMITH "Ascension and Raising Consciousness, Meditation"
Location: Earth Grid Stage
*Check out the Live Stream Mass Mediattion at 2:PM Earth Grid Stage*
5:15-6:45 PREMIERE OF MOVIE: ABOVE MAJESTIC
DAVID WILCOCK, COREY GOODE, EMERY SMITH, JORDAN SATHER, JIMMY CHURCH
Location: Total Disclosure Stage
DAVID'S UPCOMING EVENTS:
-- THE GRAND DOWNLOAD --
All David, All Weekend! July 27-29 in Estes Park, CO
David will download a monumental amount of fascinating information during this three day marathon. VIP tickets include a formal dinner and talk at the historical Stanley hotel.
Get Your Tickets Here
CONNECT WITH DAVID
© DAVID WILCOCK 2016 All Rights Reserved
DWILCOCK.COM
If you wish to stop receiving our emails or change your subscription options, please
Manage Your Subscription
Divine Cosmos